Fermentation happens.  It just does.
And you can make it happen.  This is really fun.  Sure, you can have mis-steps, and mess-ups, but once you get the hang of it, the magic starts to happen.
Everything, and I mean ev-er-y-thing, has some population of bacterial organisms on it.  You, me, fruits and vegetables, the table, the air.  They are everywhere.  Think of it – food starts to spoil due to bacteria and this can make compost, leaves and twigs decompose into soil due to micro-organisms, and fungi, the major decomposers of the planet, interact with plant roots via bacteria to help feed them. Try to imagine life without these processes.  They are absolutely necessary.
Lacto-fermentation is a process of encouraging a particular type of bacteria – lactic-acid producing bacteria – to thrive.  The key to doing this is to create an anaerobic (without oxygen) environment under a liquid brine.  Salt is used to inhibit bacteria that might cause putrefaction.  Salt also helps pull the natural juices out of whatever you are fermenting to add to a nice brine.  If not enough juice is expressed to completely cover your fruits or veggies, then simply add water.
Another ingredient you can add is whey, which is the liquid extraction from milk or yogurt.  This simply acts as an innoculent to again encourage a beneficial bacterial population, but it is not really necessary.  Fermentation can happen beautifully with simply a salty brine.
To make whey, as Sally Fallon recommends in Nourishing Traditions – the bible for making traditionally prepared whole foods, find some really good quality whole milk yogurt.  You will also need some tools to strain it.  I use a ceramic coffee filter with a cloth insert.  You can also use a cloth napkin in a mesh strainer.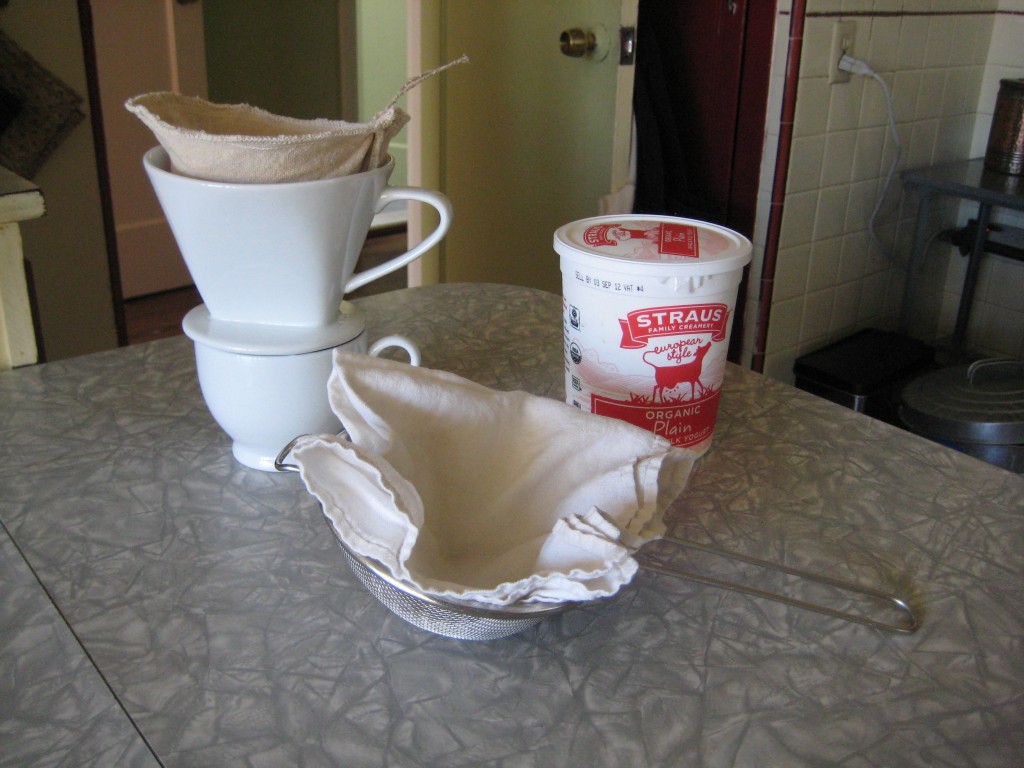 Pour the yogurt into your cloth, cover with another cloth and let sit over night.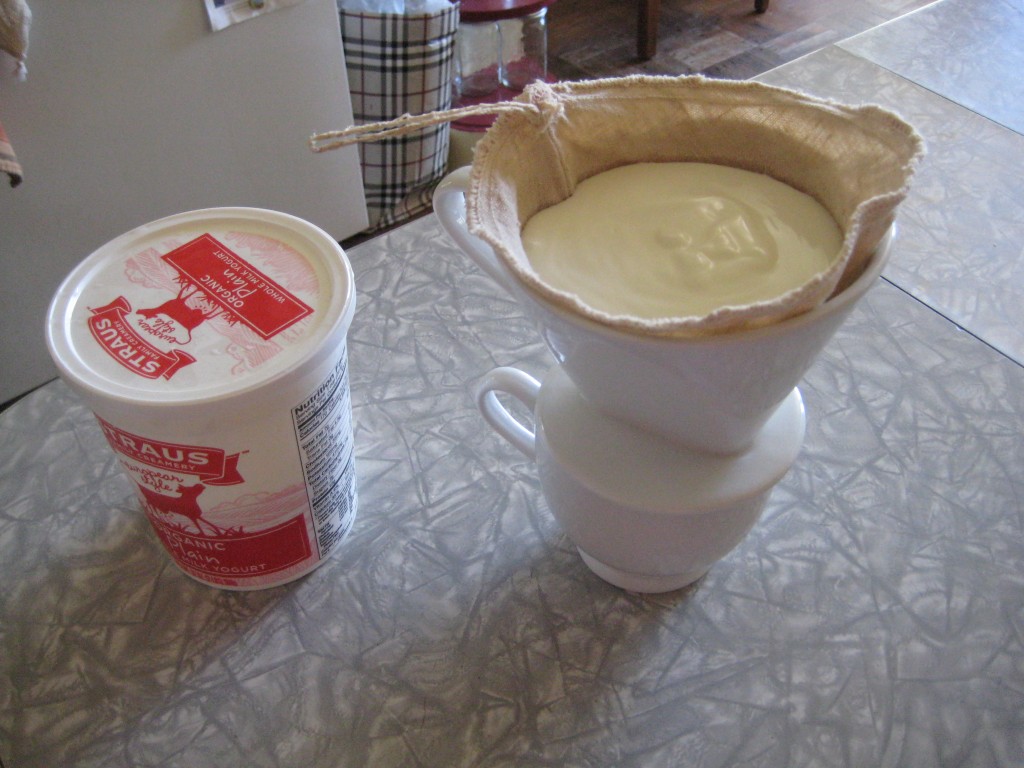 In the morning you will have a cup of whey and a batch of yogurt cheese, which is just like cream cheese but a little yogurty.
The whey should last a few weeks in the fridge.  The cheese a few days.
Lacto-fermented pickles are very different from the pickles you buy at the store, which are simply in a brine of vinegar and spices.  You may like the taste of vinegar and it is perfectly fine to eat.  However, you will be depriving yourself of a super healing food created by lacto-fermentation that vinegar can't touch.  The lacto-fermented pickle may not taste as strong as a vinegar pickle (or it may!) but it will be tart and tangy and full of lactic acid which is hugely beneficial for our digestion and our digestive tract.  When we eat lacto-fermented vegetables we are populating our gut with beneficial bacteria, which helps create a healthy internal environment.  Science is showing that most of our immune system and large numbers of neural cells (our brain) is in our gut, so really in order to be healthy we need a healthy gut.  It is our first line of defense and affects everything else happening in our body.  Pro-biotics are terrific and you can buy many different brands at the store, but I dont think any have the punch of homemade ferments.
So this is the magic of fermentation – this symbiotic relationship with the microbiota to create a truly healing vital food.  Especially when combined with cooked foods in a meal, the enzymes in the ferment help to literally digest the foods that have had the enzymes cooked out of them.  Fermentation is pre-digestion.
Fermentation goes way way way way back.  It was one method of food preservation before refrigeration.  Because as long as the veggies remain under the brine, they will stay good for a very long time.  And you can eat it throughout the process.  As Sandor Elix Katz suggests in his great book Wild Fermentation, you can taste your ferment after a few days and then keep taking from it and enjoying it as it changes over the weeks and/or months.  He also just came out with a new book, The Art of Fermentation, which is on my "to get" list.
So you can leave it out, preferably in a cool place like a basement, or you can put it into the fridge after a few days at room temp to slow down the process of fermentation, adding salt water brine if need be to keep the veggies under liquid.  An ingenious thing that Sandor suggests to keep the veggies covered is to fill a plastic baggie with salty brine and nest it in the top of the jar.  Works beautifully.
So basic ingredients for home-made lacto-fermented pickles, following Sally's recipe from Nourishing Traditions (except I doubled it):
-about a dozen pickling cucumbers
– 2 Tblspns sea salt
-8 Tblspns whey (optional)
4 Tblspns dill and/or other spices
-filtered water (if needed)
– a 2 quart jar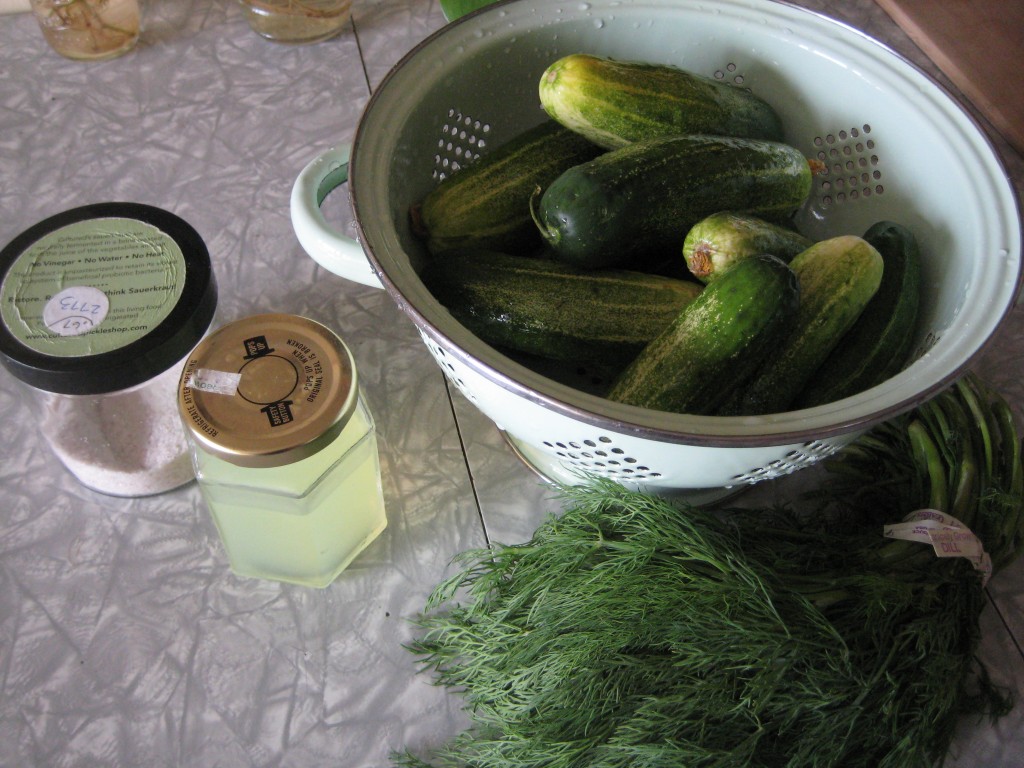 Slice up the pickles, place into a large bowl, sprinkle with the salt.  Juices will start to expell after a few minutes.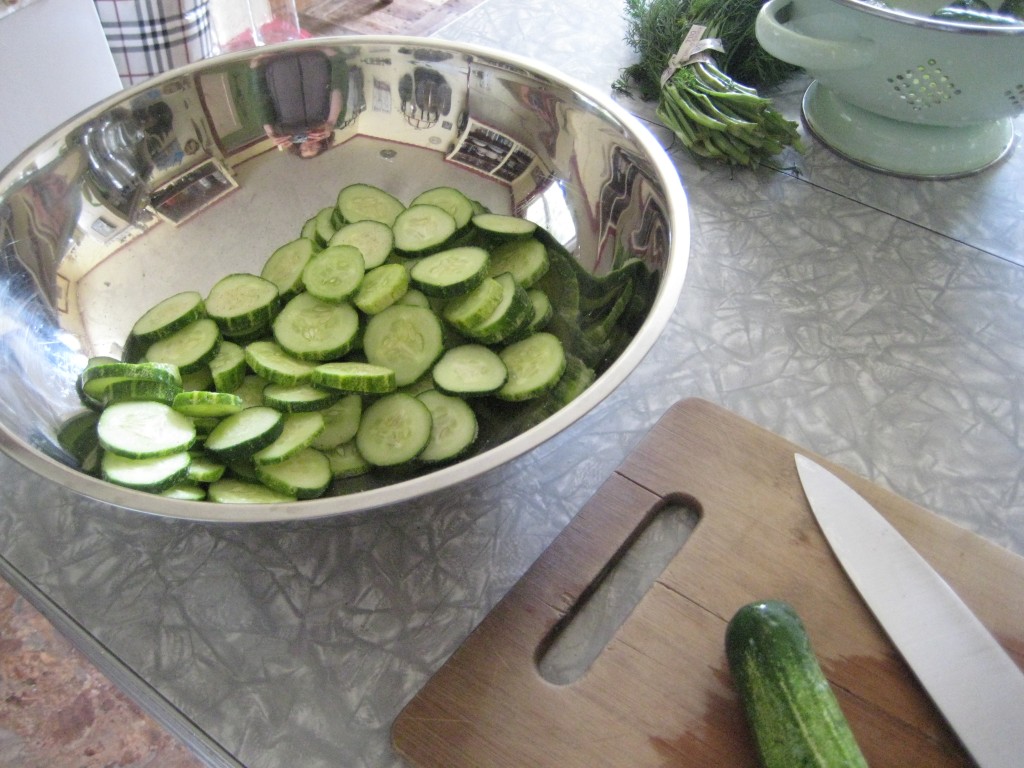 Mix in the whey.  Press firmly into your jar, adding in the dill throughout.  Cover with water.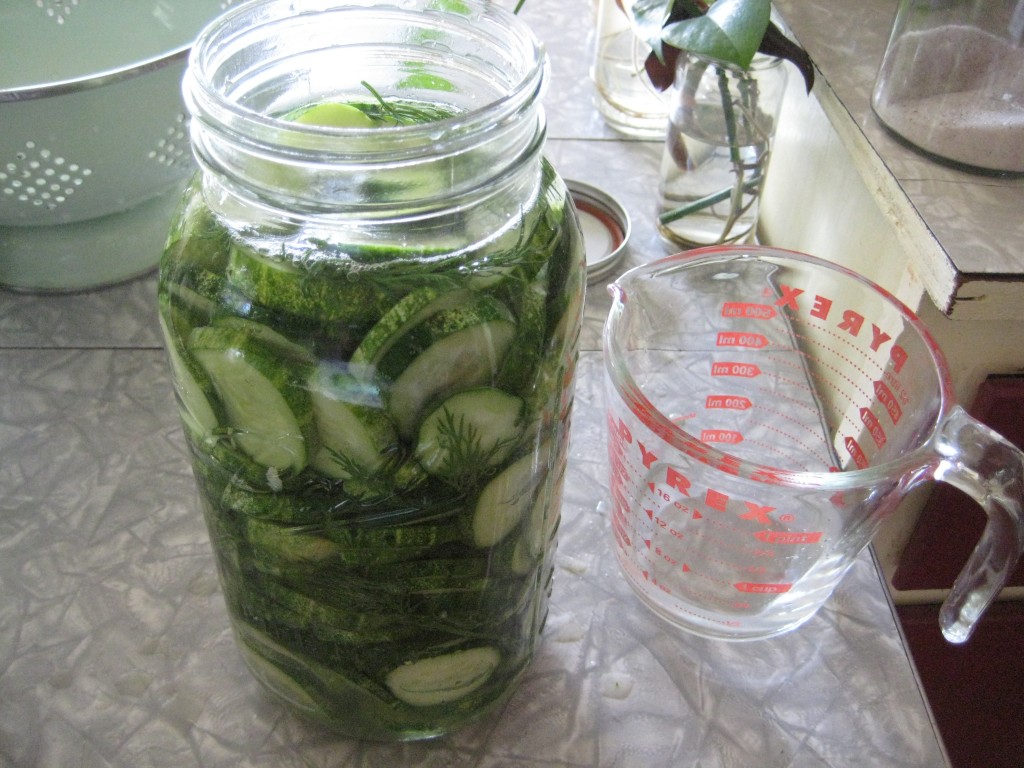 The next ingredient is time.  Cover with the lid and leave on a shelf at room temperature for 3 days.  You can then move it to the fridge to slow the process down.  After a few weeks in the refrigerator, you should have some lovely pickles.
I recently realized that I was sensitive to many cruciferous vegetables – cabbage, broccoli, cauliflower, etc.  So this meant that I could no longer go buy my favorite fermented vegetables at the store, like this and this, because they were all cabbage based.  So this meant that if I wanted fermented veggies that I could tolerate I had to make them myself.  This was a big motivator for me, as I am in the process of healing a damaged gut.  I had not had much success in the past making ferments, but this time things seem to be working beautifully.  So persistence is the key.
Some new ferments I am trying are dilly carrots, pickled summer squash, and Saur Ruben – fermented shredded turnips.  The options are kind of endless.  Fun!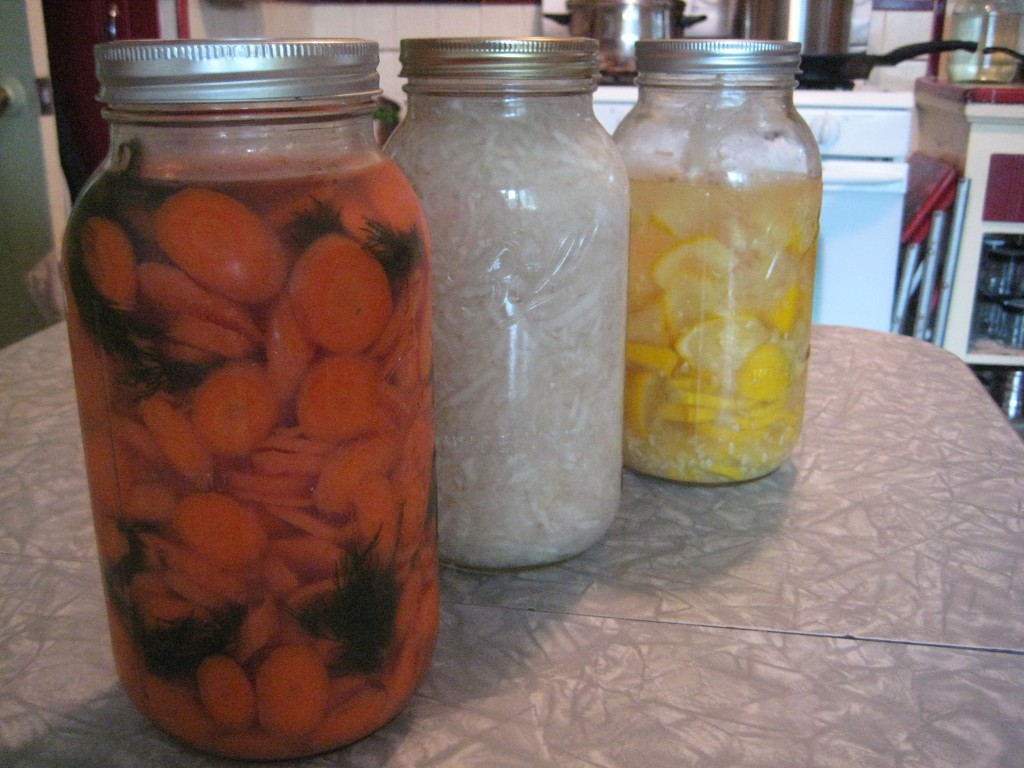 One thing that I have made and will continue making forever is Beet Kvass.  This has been my medicine for a long time.  This is fermented beet water.  3 medium sized raw beets are peeled and coarsely chopped up.  Put into a large jar with a tablespoon of sea salt and 1/4 cup of whey.  Cover with water to fill the jar.  Let this sit at room temp for a few days.  A scum may form on the top.  Simply remove this, stir, and strain out the beet pieces.  Put in the fridge.  It can be used right away.  1/4 cup before meals primes your body for digestion and helps the liver and bile do their jobs.  It tastes salty and sour.  Potent nourishment.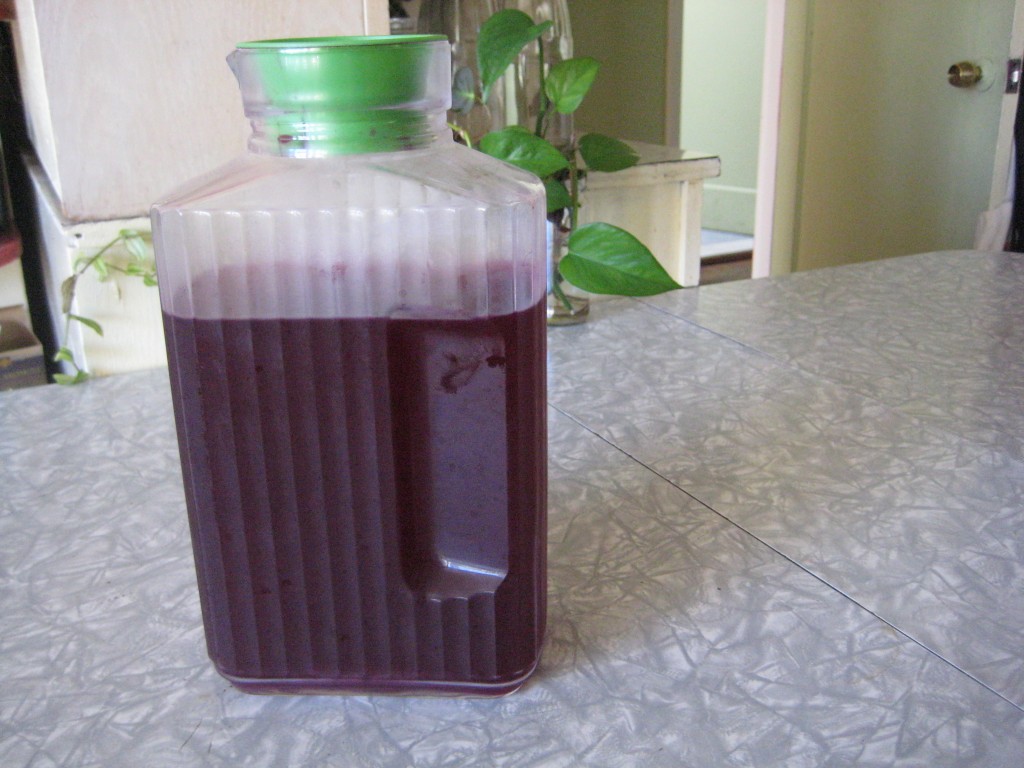 So here is to having some fun with fermentation.